Southern Harvest Field Trip – Monday 20th November
Join us for a fun and educational tour of the regions local growers and producers!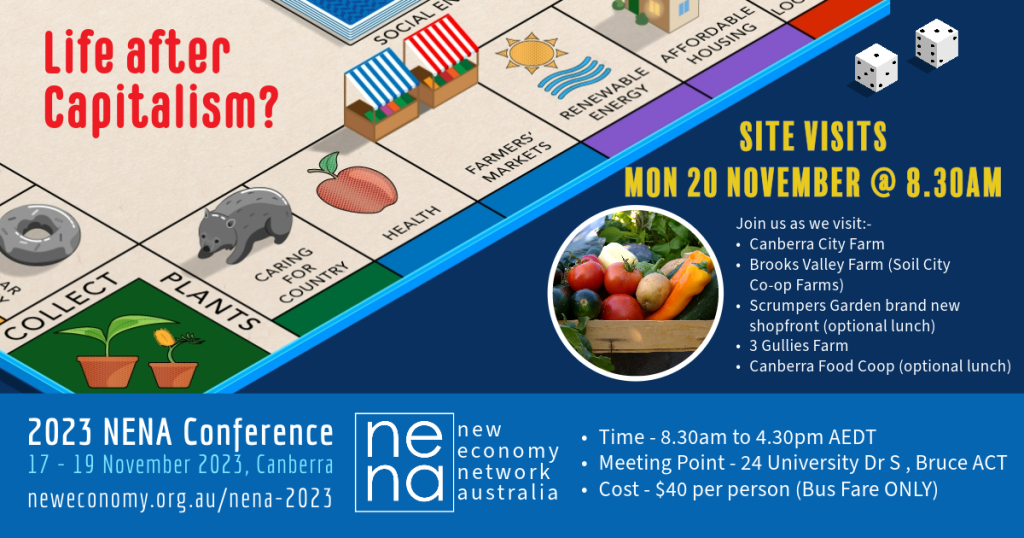 Date: Monday, 20th November 2023
Time: 8.30am – 4.30pm AEDT
Cost: $40 (this covers bus hire costs, per person)
We will be visiting several sites within the Southern Harvest multi-farmer distribution network.
Southern Harvest is a farmer led, member based organisation focused on growing local and regional food communities in the ACT and South East NSW. The Purpose of the Association is "to foster the sustainable growth and availability of local produce within the Southern Harvest region" through market opportunities, education, networking and advocacy.
They are the biggest local food organisation in our region, and going strong – The Southern Harvest network is currently working with the Co-op Federation to become a Co-operative..
The tour will explore the sources of our Friday night conference dinner, catered by Sam Hawker from Garden Kitchen Witch*n.  Destinations will include:
Canberra City Farm – Amazing city farm space, which is also providing space for cool storage and a box packing facility for the Southern Harvest box delivery scheme
Brooks Valley Farm – a 29 year old organic market garden, also the first site for the Soil City Co-operative Farms
Scrumpers Garden brand new shopfront (optional lunch) *NOT included in the $40 Bus Ticket
3 Gullies Farm
Canberra Food Coop (lunches available here too) *NOT included in the $40 Bus Ticket
FOR THOSE TAKING THE BUS TICKET OPTION
We have hired a bus so folks without transport (and those who would like a fantastic day in community with like minded folks!) can join in.
The bus will leave from and return to 24 University Dr S, Bruce ACT 2617 within the University of Canberra.
PICK UP TIME IS 8.30AM, DROP OFF IS 4.30PM AEDT
FOR THOSE DRIVING THEMSELVES OR CARPOOLING
Folks are most welcome to drive themselves and meet us at any or all of these sites.
We will also have carpooling boards up during the conference so folks can self organise to join us via private vehicles.