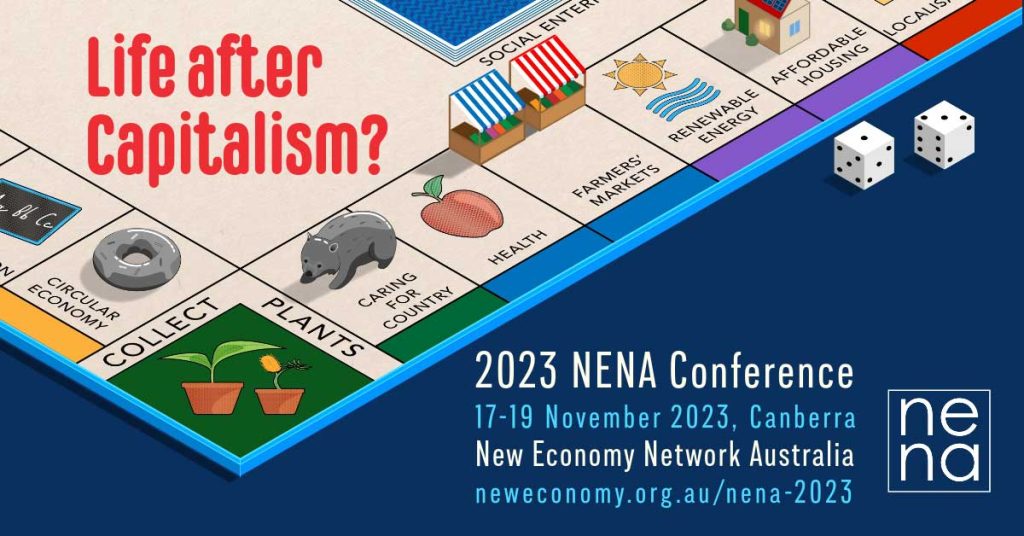 ---
---
** TICKET SALES HAVE NOW CLOSED**
ABOUT THE NENA 2023 CONFERENCE
Today's climate change, environmental decline and social justice challenges are forcing societies to rethink our economic systems and social governance.
It's been said that it's easier to imagine the end of the world than the end of capitalism. Capitalism – the system that enables a small group of people to accumulate wealth by extracting and controlling resources, at the expense of the majority of people and our planet – hasn't always been the dominant human governance system and will not be in place forever.
So what could life be like after capitalism? What might our society and economy look like?
These are the questions NENA is exploring in our 2023 Conference.
NENA's conferences are an opportunity for NENA members and friends to meet, connect, share ideas and share updates about their work. We hope you can join us!
CONFERENCE DATES: 17-19 November 2023
CONFERENCE VENUE: Ann Harding Conference Centre, University of Canberra, ACT
CALL FOR PARTICIPATION – SUBMISSIONS ARE NOW CLOSED
Submissions have now closed. If you have any queries, please email us at nena@neweconomy.org.au
KEY DATES
31 July – Due date for all conference proposals to be submitted
15 August – Conference Committee will respond to all proposals, notifying of acceptance or otherwise
1 September – Draft program available
15 October – Early Bird Ticket Prices CLOSE
23 October – Final program available
10 November – REGISTRATION CLOSES
17 November – Conference begins!
REGISTRATION – CLOSES FRIDAY 10 NOVEMBER – SO DON'T MISS OUT!
Please note: Registration fees cover catering costs and venue hire costs – NENA volunteers are organising the conference (no-one is being paid for organising the conference). Limited scholarships are available, as we don't want the cost of the conference to stop anyone from attending. Please email us if you have any questions: nena@neweconomy.org.au
Registration prices are as follows:
EARLY BIRD – has now closed
TICKET PRICES AFTER 15 OCTOBER 2023
Standard rate – $250
Concession rate – $180
Pay it forward (buy your standard ticket and support a ticket for others who need assistance) – $350
2023 NENA CONFERENCE ORGANISERS
The 2023 NENA Conference is being organised by NENA's Canberra Hub and the NENA Coordinating Hub. Please contact us anytime: nena@neweconomy.org.au